Design, Print, Installation & Removal
Welcome to Vehicle Graphics Sydney. We specialise in vehicle wraps - adhesive vinyl graphics printed and applied with precision as a powerful advertising and branding weapon. We wrap all vehicles imaginable, with a varying degree of graphics ranging from spot graphics to partial and full wraps.
Over our many years of experience within Sydney's advertising landscape, we have seen vehicle wrap advertising explode to become an exciting promotional staple. Why has it exploded in popularity so much? Because it works. It is a highly effective, engaging and culturally relevant method of marketing a business. Furthermore, given that your brand message goes where you go, it is an incredibly cost-effective promotional tool.
Our specialists are highly experienced and extremely skilled across all stages of the wrap process. We strongly believe that all professional projects deserve to have one master wrapper overseeing each stage from start to finish. Our experts complete each project with the greatest understanding of your business, of your design and of your vehicle.
We offer professional design services to create and/or develop your artwork, involving a detailed consultation to completely understand your business branding objectives. Concept development and graphic design is critical to the success of each project. We leave no stone unturned when it comes to providing our clients with he best vehicle graphics experience possible - one that gets the best results.
---
Simple Branding
When you don't want or need to cover entire parts of your vehicle, spot vinyl graphics are the perfect solution for branding with your logo, important text and smaller design elements.
Partial Wraps
Partially wrap your vehicle with a blaze of graphics integrated with your vehicle's colour and form. A well designed partial wrap doesn't fail to the eye while being more economical than a full wrap.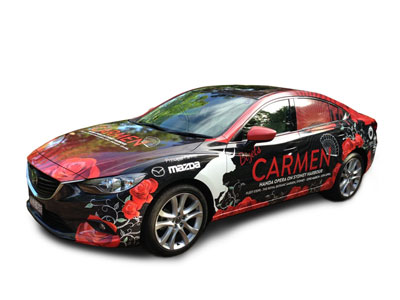 Full Wraps
Completely cover your vehicle's paintwork with full wrap graphics. The creative options and marketing ideas are endless as you make a strong commercial statement with a jaw-dropping design.